Many of our customers are used to seeing The Beast around town with our commuters, but many customers have been asking us how the Daymak Beast performs off-road in Idaho. There are plenty of riding videos in the Midwest, but no videos for the Western States.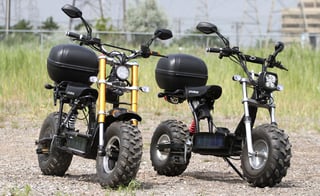 In this video, we took the Deluxe and the Deluxe D (2x2 drive) on the trails near Mountain Home and Grandview. Both machines worked like champs. We even accidentally snuck up on some sleeping campers who didn't hear us until the first Beast passed by!
We are going to take the Beasts out to Anderson Dam next time. If you have any suggestions for location testing, let us know! For more information, click the image below.